Sri Lanka – Blue Resources Trust Field Station – Overview
Sri Lanka – Blue Resources Trust Field Station
Blue Resources Trust Field Station
---
Overview
The Blue Resources Trust field station is located in Kalkudah, on the east coast of Sri Lanka.
Initially established as a temporary field office for the BRT coral reef monitoring project in December 2016, the field station has developed to support numerous BRT research programs in the east coast.
Kalkudah is a small fishing village located near the popular resort beach of Pasikudah. The main town in the area is Valachchenai, located 4km away. Most people in the area depend on fisheries, agriculture and trade as primary livelihoods. This area was severely affected by the Sri Lankan civil war from and the Indian Ocean tsunami. However, recent years have seen a significant change, with improvements in infrastructure and a growth in tourism.
---
Main focus of interests of the station
The station is generally used as a base for marine research focusing on the Kayankerni, Pasikudah and Punnakuda coral reefs  .
Research efforts primarily focus on the following topics:
Understanding biophysical variable influencing coral reef resilience in Kayankerni reef
Mapping coral reef area, extent, and reef condition for prioritizing management
Relationships between coastal ecosystems and habitat connectivity
Determining fishing effort and pressure on reef-based fishery resources
Documenting elasmobranch species diversity and population status of key fishery species
Understanding pelagic fisheries, fishing effort and catch composition to support national level management policy
Nishan Perera
Project leader
Nishan is a marine biologist and underwater photographer with an interest in coral reef ecology, fisheries and marine protected area management. He has previously worked with the IUCN and is currently a member of Project Seahorse. His current research includes field studies on seahorses, coral reefs and sustainable small-scale fisheries.
Akshay Tanna
Operations Manager
Akshay is responsible for overseeing the day to day operations at the field station and making ure that everything works well. He is in charge of equipment maintenance, overseeing safety and providing logistical support to field research programs. He currently also acts as the BRT Boat Captain and Diving Safety Officer.
Gayashan Aarachchige
Research Scientist
Gayashan works on the BRT coral reef research program. He has conducted extensive research on echinoderms in Sri Lanka and is now the primary coral reef scientist based at the field station.
Gobiraj Ramajeyam
Research Scientist
The lead field researcher in the BRT elasmobranch fisheries programme Gobi splits his time between the BRT field station and Jaffna where he collects additional fisheries data.
Dinoswaran Balasiri
Research Assistant
Working with the coral reef program, Dino conducts regular surveys of small scale reef fisheries in the Pasikudah area documenting catch composition and fishing effort.
Scientific

collaborators

Scientists who support EnScope through collaborative work and partnerships
Scientific collaborators will be added soon

Climate

, geography and ecosystems
Kalkudah is located in the eastern dry zone of Sri Lanka. The climate is hot and dry, with a wet season from December to February.
The landscape is flat, comprising of scrub forests, dry tropical forests, agricultural lands and coastal wetlands, with isolated rocky hillocks further inland. The coastline consists of sandy beaches, lagoons, estuaries and coral reefs. The Maduru Oya river system drains into the ocean via the Valachchenai estuary which contains extensive mangrove habitats and seagrass communities. Fringing coral reefs and rocky reefs are found along the coast, with significant reef systems around Kayankerni, Pasikudah and Punnakuda.
Kayankerni reef remains of the healthiest coral reef systems in Sri Lanka, with minimal impacts from the 2016 coral bleaching event. Blue Resources Trust is currently supporting initiatives by the Sri Lankan Department of Wildlife Conservation to declare the reef as a marine sanctuary. There are also several shipwrecks in the area including the SS British Sergeant, sunk by Japanese planes in WWII.
Geography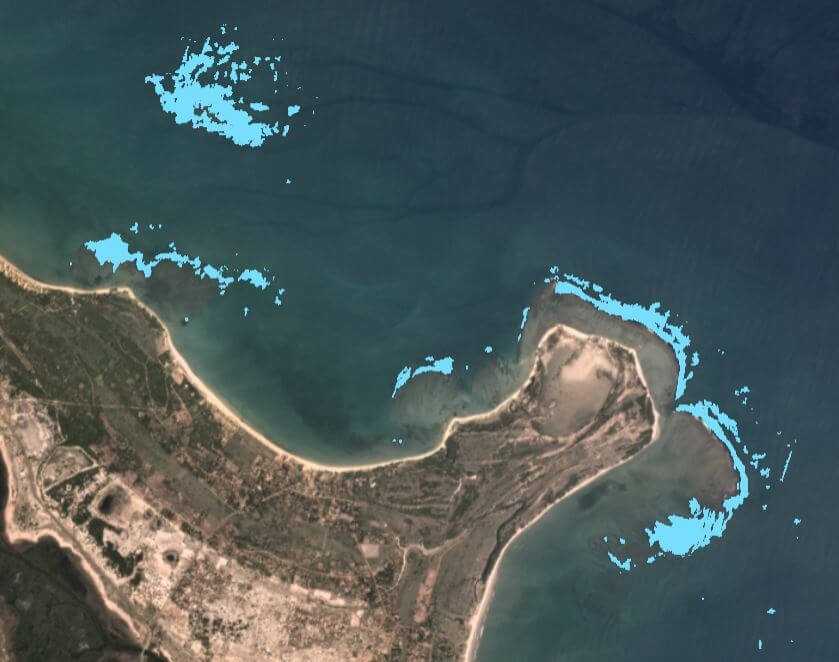 Dry season
March through to October
Best time for diving in the East as seas are calm and weather is generally sunny
Rainy season
November through to February
Rainy weather resulting from the North East monsoon.
Though diving is still possible, projects generally focus on land- or shore-based activities during this period
Ecosystems
Estuaries
Scrub forests
Sandy beaches
Mangroves
Seagrass beds
Coral reefs